7-Eleven® is Helping Change Kids' Health at Beaumont Children's
February 22 – April 11, 2023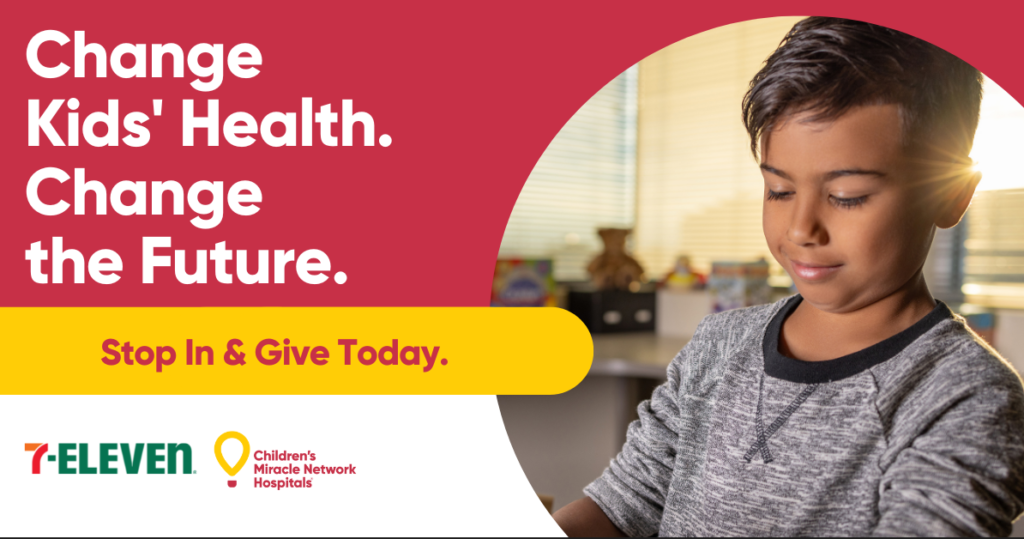 Children's hospitals are at the forefront of protecting the health of future generations. But they can't do it alone. 7-Eleven® serves their neighbors to meet their everyday needs so that, together, we can build a better tomorrow.
Through Children's Miracle Network Hospitals, 7-Eleven® wants to give families at Beaumont Children's the support they need and help kids receive the best possible care. One hundred percent of donations made at 7-Eleven® stores in Southeast Michigan stay local and benefit Beaumont Children's. These donations help support the health and well-being of kids by funding critical life-saving treatments and healthcare services, Thus, allowing kids an opportunity to grow to their full potential.
Participating 7-Eleven® stores, along with customers, neighbors, communities and business partners, are joining forces to raise critical funds for Children's Miracle Network Hospitals. From February 22 thru April 11, 2023, you can donate or round up your purchase at participating 7-Eleven® stores to help make our community stronger by providing needed treatments for patients at Beaumont Children's. Your donations create ripple effects that positively impact our community for years to come and unlock a world of possibilities for pediatric patients.
Patients like Connor, the 2023 local Ambassador at Beaumont Children's:
After determining he suffered a cervical spine injury while playing soccer, Connor had surgery to install a halo device to stabilize his neck and spine. For eight weeks, Connor had to lay completely flat in his hospital bed and wasn't allowed to get up or move. He underwent additional surgeries and painful traction adjustments and was allowed to go home for another six weeks of recovery before having his halo removed.
Despite these extraordinary circumstances, Connor maintained a positive attitude throughout his stay and made use of everything that Child Life Services at Beaumont Children's offered. Today, more than three years after his initial injury, Connor is a happy, healthy and active 13-year-old who enjoys golf and tennis. His bravery, generosity and positive attitude are an inspiration to all of us!
Donations to Children's Miracle Network Hospitals support several programs and equipment that help kids like Connor.
#KidsCantWait #ChangeKidsHealth
THANKS TO 7-ELEVEN AND ITS CUSTOMERS FOR HELPING BEAUMONT CHILDREN'S TRANFORM KIDS' AND FAMILIES' LIVES IN SOUTHEAST MICHIGAN- NOW AND IN THE FUTURE.