Help Grow the Dance Marathon Movement
During the 2019-2020 school year, the Miracle Network Dance Marathon movement is hoping to grow by establishing new Dance Marathon organizations on more than 20 college and university campuses throughout the United States.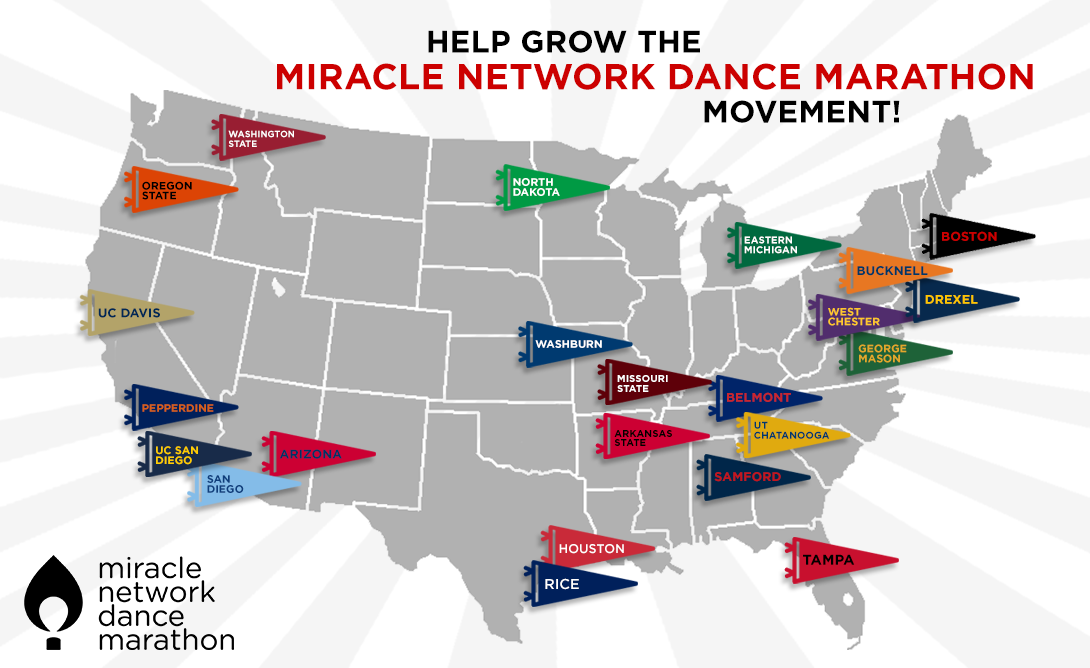 During the fall 2019 semester, staff members from Children's Miracle Network Hospitals will be working to recruit student leaders and helping to establish new Dance Marathon organizations at the following campuses:
Boston University
George Mason University
West Chester University
The CMN Hospitals staff are also seeking to make connections with any students or staff members who could help bring Dance Marathon to: Belmont University, Drexel University, Eastern Michigan University, Oregon State University, Pepperdine University, Rice University, Samford University, University of Arizona, University of California-Davis, University of California-San Diego, University of North Dakota, University of San Diego, University of Tampa, University of Tennessee-Chattanooga, Washburn University, and Washington State University.
CMN Hospitals staff members are looking for students who are looking to get involved and take on a leadership opportunity by starting a new philanthropic organization on their campuses.
Recommend someone who might be interested in learning more about bringing the Dance Marathon movement to their campus in the form below:
Loading…
---
Miracle Network Dance Marathon is an international movement, involving over 400 colleges, universities and K-12 schools across North America that fundraise for their local Children's Miracle Network Hospitals. Since its inception in 1991, Miracle Network Dance Marathon has raised more than $250 million–ensuring that no child or family fights pediatric illness or injury alone.
Learn more about Miracle Network Dance Marathon: