Walmart Campaign helps one of their own
Walmart Campaign helps associates, customers and community.
Marchristian recently started working at Walmart earlier this year. Shortly after he started, he traveled out of town to attend the mandatory manager trainings. At home waiting for him to return were his three children, Amina, Amarah, and Amiah as well as his lovely wife, Alexandra. On March 28th, while Marchristian was out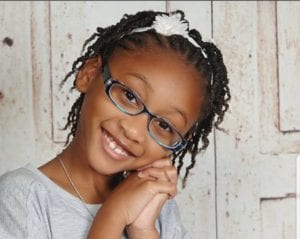 of town, his oldest daughter Amiah started experiencing extreme pain throughout her body. The intense pain was constant for a couple of days. Alexandra feared that Amiah was experiencing her first flare up from her Sickle Beta Thalassemia +. Her worries were confirmed. Alexandra took Amiah to the emergency room where she received fluids and pain medicine to help her with the flare up. Alexandra and Marchristian are so happy with their experience at their local Children's Miracle Network Hospital, Hurley Children's in Flint, Michigan. They took care of Amiah, working tirelessly to make sure she was as comfortable as possible.
Marchristian is the assistant manager at the Walmart store in Chesterfield, Michigan. He commented on how much it means to him to work for a company that is dedicated to giving back to the community. He experienced first-hand how donations help kids at CMN Hospitals. In 2018, the Chesterfield store raised $6,000 for Beaumont Children's. Now, with Marchristian leading the stores efforts, they plan to raise even more in 2019!
Thank you, Walmart for giving back to local Children's Miracle Network Hospitals and helping kids like Amiah!