Speedway® is Helping Beaumont Children's Change Kids' Health October 27 – 29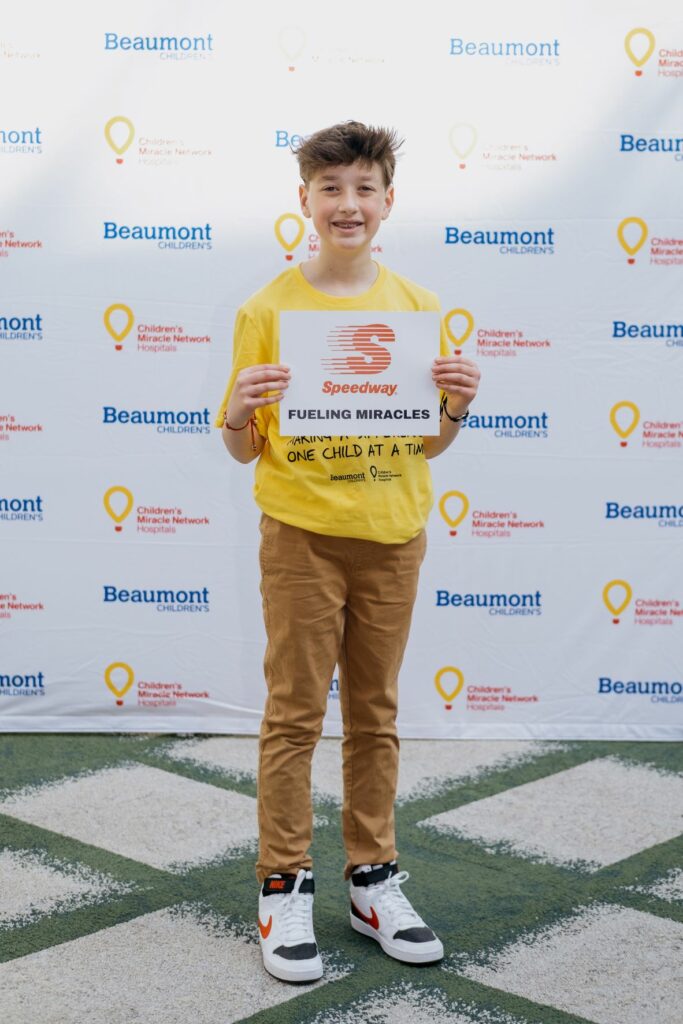 Speedway®, part of the 7-Eleven family of brands, is fueling miracles for kids and their families at Beaumont Children's, a Children's Miracle Network Hospital, October 27-29.
Stop in your local Speedway store this week and donate to fuelmiracles and change kids' health.
Speedway has been a proud partner of Children's Miracle Network Hospitals since 1984 and has raised more than $7.4M locally for Beaumont Children's since 1999. Their support has brought joy and healing to kids treated in the hospital in many ways and they understand children's hospitals are at the forefront when it comes to protecting the health of future generations.
Your donation will make a difference in the community by raising funds for Beaumont Children's, to improve medical treatments, equipment and facilities, and provide child life services to help put kids' and families' minds at ease during difficult hospital stays. Funds raised allow our hospital to address the most challenging health issues today and prevent and prepare for those to come for all pediatric patients. Patients like Connor:
In September 2019, 10-year-old Connor fell while battling for a ball during a soccer scrimmage. His parents took him to see an orthopedic surgeon, who performed an X-ray to confirm that Connor had broken his collar bone.
Eight weeks and many follow-up appointments later, Connor's collar bone was healed. But something wasn't right. His head and neck were still out of alignment. The orthopedic surgeon referred Connor to a physical therapist, where he underwent treatment for six weeks before a therapist noticed something amiss with Connor's neck during a manipulation session. He was referred to a neurologist for a CT scan. When the neurologist saw the imaging, he urged Connor's family to take him directly to the Emergency Center at Corewell Health William Beaumont University Hospital (formerly known as Beaumont Hospital, Royal Oak).
Reviewing the CT scan with Connor and his family, the physicians pointed out two twisted vertebrae in his neck. They were shocked Connor had not experienced paralysis, muscle weakness or any other neurological symptoms. The following morning, Connor had surgery to install a halo device to stabilize his neck. His family was told he would be in traction for about a week. But that one week quickly became eight.
Connor remained hospitalized for two months, unable to sit up or get out of bed. He underwent three additional surgeries and countless painful traction adjustments to his halo. Despite these extraordinary circumstances, Connor maintained a positive attitude throughout his stay. "Connor has the sweetest soul of any patient I've ever worked with," said Child Life Specialist Amanda Lefkof. "He put a smile on everyone's face."
Connor availed himself of every Child Life Service that was offered to him over the course of his stay. This important program, funded by Children's Miracle Network, is dedicated to helping children and their families cope with the stress of serious illness or injury. In addition to participating
in animal therapy visits, working with music therapists and collecting bravery beads for completing difficult procedures, Connor and his child life specialists came up with creative ways.
Thanks to Speedway and its
customers in SE Michigan for helping change kids' health and change the future
of healthcare at Beaumont Children's!