New Meaning to Improving Your Golf Swing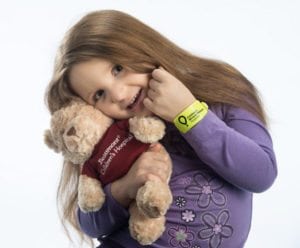 Golf is not a simple game. The mechanics, pace and concentration can wreak havoc on an adult's psyche, so it's easy to understand why there are few young children who take up the game. And yet, this weekend you can find seven-year-old Elise Bromund hitting the links.
"She started as a volunteer at a golf outing when she was three years old and she would ride around in the cart," said Elsie's mother Beth Bromund, who, with her husband, Rob, are members of HPC Credit Union in Alpena, Mich. "Now she takes golf lessons. It's something she does because she needs occupational therapy to strengthen her hands."
When Elise was just three months old, she was diagnosed with Jacobsen Syndrome and a kidney defect. Her doctors at Beaumont Children's Hospital in Royal Oak, Mich., also found she suffered from a rare blood platelet disorder where she doesn't clot properly.
Elise has been through many surgeries and has nearly died three times, her mother says. Her longest stay at the hospital was 40 days. If it wasn't for the experienced healthcare professionals at Beaumont, Elise's unusual nocturnal epileptic-induced seizures might have gone undiagnosed. Knowing the unique symptoms of children with Elise's condition, which includes attention deficit hyperactivity disorder (ADHD), the neurologist made the discovery.
"Once she would fall asleep, it would trigger her epilepsy," Beth said. "We don't know how long she had had it."
Elise's experience with the children's hospital was not just lifesaving, but life shaping.
"Jacobsen Syndrome is not a good thing, but if she didn't have it, we wouldn't have met all the wonderful, generous people through Children's Miracle Network Hospitals."
Elise is a champion for CMN Hospitals and organizations like Credit Unions for Kids (CU4Kids), which helps raise thousands of dollars annually. Michigan is home to four CMN Hospitals and 244 credit unions. Whether it be as a financial provider or charity partner, the Bromund family has a new appreciation for the credit union industry's philosophy of "people helping people."
In addition to playing golf, Elise enjoys dance, musical theatre and singing. She has sung at different events, including Costco, Sam's Club and at a local professional baseball game. Beth says her family, which includes two older daughters, Emily and Kayla, are focused on what makes their family happy and letting the other things go.
"Elise is an awesome kid," Beth said. "For us, personally, we just keep treating her as normal as possible and not let the disabilities define her."
Beth is also amazed by how much money is donated to CMN Hospitals by organizations like CU4Kids. Her husband has been a member of HPC since he was a young boy.
"There are so many generous, good, helpful people out there," she said. "I'm just amazed by how much is donated. When your child is medically fragile, you have a greater appreciation. Every dollar definitely benefits the children and their families as well."