Miracle Makers: Paying it Forward
Miracle Makers is a series of 30 stories from Walmart and Sam's Club associates to celebrate the companies' 30th anniversary of fundraising for CMN Hospitals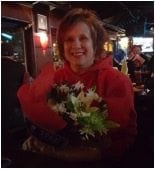 Helping others is Linda Giuliani's passion. From drives to collect food and hygiene products for individuals in need to Toys for Tots campaigns, Linda lends a helping a hand. So, when she joined Sam's Club, she leapt into fundraising for Children's Miracle Network Hospitals  without a second thought.
"Helping Children's Miracle Network Hospitals just comes naturally," Linda says. "How can you not help sick children? I've kind of made it my mission to be sure our Sam's Club keeps Beaumont Children's Hospital stocked with everything it needs."
Linda's cheerful attitude and willingness to talk to customers has touched many individuals. For Linda, it's all part of paying it forward.
"I have a wonderful management team at Sam's Club that supports me and our efforts to help children in need," she says. "I just hope when I'm gone, maybe I will have made a little difference in someone's life."
To help children and families in your community, donate at your local Sam's Club or Walmart today.