GameStop Gives. Success in 2019 Fundraising Campaign.
First-hand experience. First-hand impact.
GameStop, an outstanding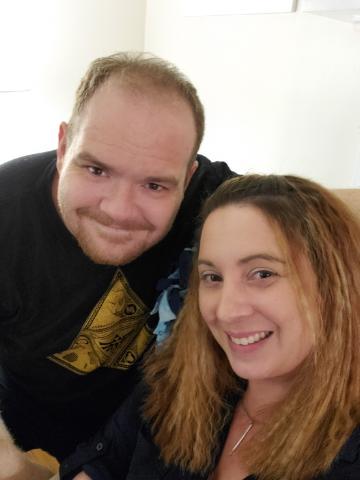 charity partner of Beaumont Children's, recently wrapped up their fundraising campaign for 2019.  Because of motivational district managers, determined store leaders, compassionate cashiers and generous customers, GameStop raised $8,518 for Beaumont Children's!!
Senior Game Advisor Anthony Partipilo and Store Leader April Moue, both from the Fort Gratiot GameStop location had personal reasons for wanting to make the trip to tour the pediatric unit at Beaumont Children's. For April, the CMN Hospital saved her friend's child who was battling childhood Leukemia. "By seeing where the proceeds go and how we help, it makes it easy for me to tell customers how their donations make an impact and help," April said.
For Anthony, it was a very personal experience. Anthony, whose twins were born at Beaumont Royal Oak, knows all too well the significance of CMN Hospitals. Just two weeks before the twins' birth, he and his wife learned that one twin faced a challenge – the placenta had stopped working. When the twins were born, the hospital was ready with the latest in technology, compassionate care and assistance. Both boys required stays in the newborn intensive care unit (NICU), but it was Dylan who faced a longer-term treatment. Dylan remained in NICU for 2.5 months and was a direct beneficiary for all the miracles CMN Hospitals creates.
"With technologies that CMN Hospitals provided to Beaumont, they saved my child," Anthony remembers.
"Today, Dylan is 2 years old, healthy and now taller than his twin brother."