Dairy Queen's®Miracle Treat Day® Brings Health and Hope to Kids at Beaumont Children's
On Thursday, July 27, participating DQ® locations are giving back to positively change the health of children in our Southeast Michigan community. One dollar or more from every Blizzard® Treat sold at participating DQ® locations will benefit Children's Miracle Network Hospitals.
Through these donations, Beaumont Children's will support pediatric patients and provide treatments desperately needed today, so that they can fulfill their potential in the future.
Patients like Yeira, who lives her best life with the help of her children's hospital and the care she will depend on her entire life.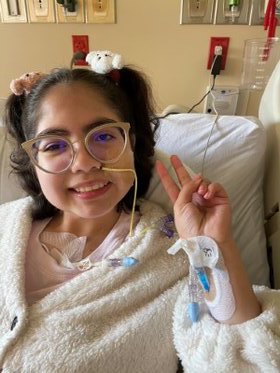 Yeira was born with an extremely rare incurable gastrointestinal disease. Her intestines simply do not work. She receives nutrition through her veins and through a method that bypasses her intestines. This care can cause fluid retention and tissue swelling at the site where she receives dailytreatment. Without these treatment, the fluids can dangerously seep into her organs. Already, she has survived several life-threatening experiences, including a heart attack. Donations to CMNH support several programs that give Yeira a world of possibility, including the in-hospital school, playrooms and therapy dogs.
The DQ® brand has been a proud partner of CMNH at Beaumont Children's since 1989 and has raised over $1M to help bring health and joy to local kids. These donations help fund the Child Life program at Beaumont Children's, a vital program allowing patients to experience comfort and understanding throughout their experiences at the hospital.
DQ® locations nationwide want to help children's hospitals foster the business owners, creators and leaders of tomorrow. Thanks to you and participating DQ® locations in Southeast Michigan for helping change kids' health and change the future at Beaumont Children's.
#MiracleTreatDay #MTD #ChangeKidsHealth #Blizzard #BringHope #HappyTastesGood