New Program Supporting Pediatric Mental Health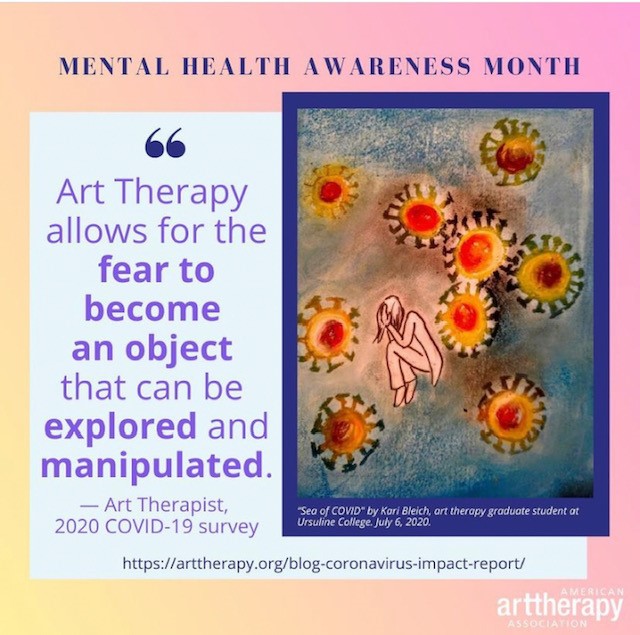 Mental Health Awareness month has come to a close, but supporting pediatric patients is still top priority. Beaumont Children's Art Therapist has made a commitment to continue the important work of making a difference in the lives of patients and families facing challenges with mental and emotional health.
Erin Shahly, Art Therapist, has been instrumental in creating new programming for various art therapy initiatives at Beaumont and has recently taken a particular interest in the challenges that children and adolescents continue to face as the Covid-19 pandemic has changed lives since early 2020. "The fear and isolation we all experienced during the pandemic can be too difficult for young people to process. As a result, many are struggling with mental health issues," Erin says. This is not an issue unique to Beaumont Children's. The CDC has reported a 66% increase in mental health-related Emergency Room visits among children since the onset of the pandemic, as compared with the year 2019. What is unique in this circumstance is the way in which Beaumont Children's caregivers have responded to address the wave of patients who have been admitted for mental health concerns. Beaumont is prioritizing their care and has made alternative therapies, such as Art Therapy, a priority.
Erin shared, "Often children and teens don't have the words to express their feelings; they can use art to communicate. We want our patients and families to know they are not alone. We're creating comfort kits to provide a calming, creative outlet as we work together towards healing." These supportive care packets include items to assist patients with coping strategies, provide opportunities for self-expression, and to creatively work on problem-solving skills. Some of the materials include sketchbooks, journals, non-toxic art materials, therapeutic putty, flexible brushes and bendable pencils, and more. The purchase of these items was sponsored in part by a local foundation whose mission is to support the advancement of the therapeutic arts in children's hospital settings.
Founded in 2019, The Healing Notes Foundation has supported various projects at Beaumont Children's. Since the onset of the Covid-19 pandemic, Director Jessica Persichini has seen firsthand the shift in the patient and family experience at local children's hospitals and has witnessed the dramatic rise in mental health admissions for children under age 18.  "Prior to the pandemic, pediatric patients often had the opportunity to visit communal spaces, participate in therapeutic group activities, and were able to use a wide range of shareable art materials provided by The Child Life Team. Covid-19 has changed the landscape of what a hospital stay looks like for children and adolescents. They are often isolated in their rooms with limited materials and opportunities for interactions with others," says Jessica, who divides her time overseeing the foundation and teaching yoga & meditation to elementary school students.
While pandemic restrictions have created so many roadblocks, the opportunities for therapeutic art interventions have dramatically been increasing! Erin and her team have found creative ways to reach out to patients via closed-circuit hospital network programming, and individual visits with patients tailored specifically to their conditions and personal interests. The Healing Notes Foundation is honored to support this latest project, and Jessica remains committed to working with Erin to ensure that her objectives in addressing and improving the landscape of pediatric mental health care at Beaumont continue and have funding and support.